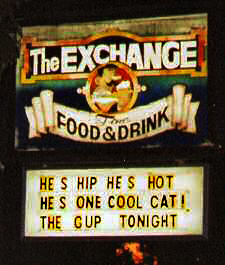 GOLDEN GUP LIVE...
GOLDEN GUP AT THE EXCHANGE

Wednesday evenings at The Exchange 160 East Main Street, Rockaway, New Jersey 07866 (973-627-8488) from 8pm-11pm.
A Wednesday night tradition for over 25 years - one of the longest established (if not THE longest established) "Pop/Swing/Rock & Roll/Rhythm & Blues" nights in Northern NJ!
ST. PATRICK'S DAY CELEBRATIONS...
Saturday, March 16th at The Exchange from 4pm for their dinner celebrations (see above for their details or click on the link!)
and
Sunday, March 17th at the Canal House, 47, Kossuth Street, Wharton, NJ 07885 from 3pm for their St. Patrick's Day celebrations!