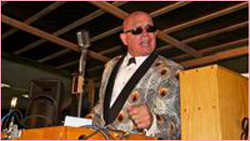 Scheduled Events, Radio Shows, and Special Appearances!
GOLDEN GUP ON THE RADIO...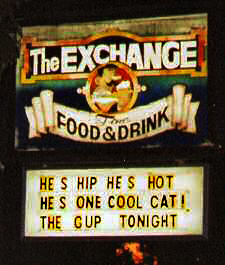 GOLDEN GUP LIVE...
GOLDEN GUP AT THE EXCHANGE

Wednesday evenings at The Exchange 160 East Main Street, Rockaway, New Jersey 07866 (973-627-8488) from 8pm-11pm.
A Wednesday night tradition for over 30 years - one of the longest established (if not THE longest established) "Pop/Swing/Rock & Roll/Rhythm & Blues" nights in Northern NJ! Not appearing Nov. 27th.
LEAD EAST 2020
Labor Day Weekend 2020, Hilton Parsippany, Parsippany, NJ 07054. How can it be described? It's a car show unlike any other - click on the "Jukebox Drive" video on Gup's videos page and you'll get a feel for the event! Gup appears throughout the weekend spinning vinyl at the Thursday night kick off party in the ballroom. He'll also be introducing special guests throughout the weekend, playing with the Rhythmhancers at the Saturday night outdoor stage party, as well as hosting (in the Jukebug) the "BEST GUTBUCKET RHYTHM AND BLUES" infamous parking lot party next to his vintage fleet from 1am on Sunday morning - an event that usually goes until sunrise! Visit the Lead East website for more information!