Phone is fastest!
800-362-5853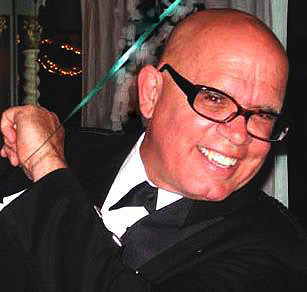 Gup Gascoigne has been a music lover since he was a toddler. He began spinning records at parties and school functions in 1966, when he bought his first stereo system. His first DJ engagement for pay came in December of 1973 performing an oldies show at a junior high school in Farmingdale, Maine. In 1975, he was the first Dee-Jay in Morris County, NJ to host an "oldies" night at "Smiles" in Parsippany.

A leader in the DJ field since then, Gup has specialized in presenting classic dance music from the Swing Era through the 1960's. His commanding knowledge of Pop Standards, Big Band, early Rock & Roll, and Rhythm & Blues makes him a natural choice for those who demand a packed dance floor! Gup has MC'd more than 9,000 performances to date (over 1000 of them wedding receptions!) and personally presides over every show he's booked for. He will see to it that your special day goes just as planned!

In 1985 he established the New York metro-area's first fully professional jukebox rental service "The Duke of Jukes" - now trading as PARTYJUKES ®, renting jukeboxes to the television and movie industries.

Since 1979, music entertainment has been Gup's ONLY profession. While the majority of his contemporaries are part-time DJ's, Gup has managed to stay true to his R&B and R&R roots full time for over 45 years! In addition to performing at events, car shows, functions and parties around the country, Gup can be heard on a variety of radio outlets in New Jersey and Florida hosting his two radio shows - "Pop Treasury" and "Still Rockin' "! He is currently in around the 34th year of his Pop, Swing, Early Rock & Roll, and Rhythm & Blues night at the Exchange in Rockaway, NJ - the longest running oldies night in NJ!

See "Gup's Calendar" for all his public dates and details of radio show times.
Gup is married to Lulu (originally from London, England), a professional dance teacher.

His Mission Statement is simple: TO PROVIDE THE BEST VALUE IN THE SPECIALIZED PRESENTATION OF POP, SWING, EARLY ROCK & ROLL AND RHYTHM & BLUES MUSIC TO BE HEARD ANYWHERE, IN A COMPETENT, ZESTFUL YET DIGNIFIED MANNER!